Members in the News – March 2021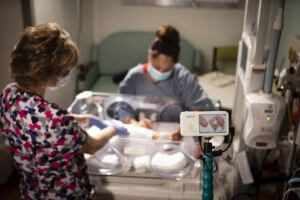 Centennial Hills Hospital Now Offers Video Streaming Technology for Parents of Neonatal Intensive Care Patients
Centennial Hills Hospital now offers video streaming for parents and other family members of neonatal intensive care unit patients.
Currently, parents of NICU babies are able to visit at any time as long as they do not display signs or symptoms of COVID-19 or other illnesses. To further help parents and other family members engage in their baby's care, the Birthplace at Centennial Hills Hospital has installed the NICVIEW® 2 web camera system, a video-streaming technology that is clipped to the baby's bedside, allowing parents and other family members to watch their baby's care and activities.
The technology uses web-based video with real-time streaming on any online device or via an iOS or Android app. It features password-protected access so parents and family will only view their own child.
"This is a wonderful opportunity to help parents and other family members have the ability to see their baby when they cannot physically be present," said Windy Virgil, Women's Services Director at Centennial Hills Hospital. "The technology allows them to see their baby resting or receiving medical or nursing care, which can provide an additional level of comfort and education to parents when they can't be there in person."
It also helps the family learn their newborn's routines within the NICU, which can help smooth the transition to life at home.
"We know parents would prefer to be with their baby around the clock, but sometimes that isn't feasible because they are working or at home with other children," said Sajit Pullarkat, CEO of Centennial Hills Hospital. "We're happy we're able to provide an extra layer of reassurance through this technology."
VASNHS member recognized nationally as "Direct Care Nurse of the Year"
Donia Till, a registered nurse in the special procedures unit at VA Southern Nevada Healthcare System (VASNHS), was recently honored globally as the 2020 Pathway Direct Care Nurse of the Year by the American Nurses Credentialing Center (ANCC).
The award, which recognizes the outstanding contributions of nurses globally from a Pathway to Excellence organization, selected Till due to her exemplary contributions and commitment to ensuring VASNHS' nurses have a voice in decision-making, shared governance, leadership, and professional development.
The Pathway to Excellence designation signifies health care organizations that demonstrate a commitment to establishing the foundation of a healthy workplace for staff. VASNHS was the first medical facility in southern Nevada and first VA health care facility in the southwestern United States to earn this distinction in September 2019.
Till was nominated for being the driving force behind VASNHS' pursuit of Pathway designation. "Donia's enthusiasm for and dedication to adopting and living the Pathway Standards were essential to achieving VASNHS' designation," said Dr. Jennifer Strawn, VASNHS Nurse Executive. "As a result, current and future nurses at VA Southern Nevada will benefit from an organizational culture of sustained excellence, as well as a positive practice environment that supports, empowers, and engages staff."
Till put together a cadre of nurses who rounded from unit to unit, informing staff about the Pathway to Excellence framework and its benefits, including why it's suitable for the organization. "These types of nurse-led efforts are critical in the success of an organization's designation because they allow nursing staff to be engaged with the Pathway to Excellence journey and the benefits that come with it," said Strawn.
VASNHS Pathway Program Director Gregory Clark commended Till for her involvement in developing the organization's shared governance education team, which evolved into the steering committee for Pathway to Excellence: "Her passion inspires nurses' eagerness to have their voices heard, highlighting a knowledge gap for establishing a structure that supports unit-based councils." Clark said.
Till is an advocate for direct care nurses and, as a certified nurse, was directly involved in writing the Pathway Standards Document. She was instrumental in the organization's "Let's Get Certified" campaign by providing education and leading the shared governance education team and steering committee as cochair and chair. And with her pursuit of advanced education, Till fosters the foundation of leadership and provides safe and effective patient outcomes. "She exemplifies what a Pathway champion looks like," Clark said.
"As a direct care nurse, 'Living Pathway' is the ability to make a difference at the lowest level that impacts practice and outcomes and be the change agent to improve processes," said Till. "The VASNHS leadership team was an inspiration in my individual journey and encouraged me to go above what I thought was obtainable. The journey doesn't stop; it improves and endures as nurses continue to strive to make a difference."
Get Screened During March, National Colorectal Cancer Awareness Month
March is National Colorectal Cancer Awareness Month, and Tahoe Forest Health System is raising awareness in the community on the importance of getting screened for colorectal cancer.
Colorectal cancer is the second leading cause of cancer death among men and women in the United States- but it doesn't have to be. Through screening, colorectal cancer is preventable and treatable, if caught early. A colonoscopy is one of several screening tests for colorectal cancer. During a colonoscopy, precancerous growths can be removed before they even turn to cancer.
Talk with your primary care provider about when to begin screening for colorectal cancer and which test is right for you.
The Tahoe Forest Gastroenterology Clinic has multiple health care providers – often with low wait times for an initial appointment – for consultation of colorectal cancer screening or for other digestive health care needs. For a complete list of providers, visit the website.