Members in the News January 2021
The Latest in Cancer-Fighting Technology
At the Carson Tahoe Cancer Center, an affiliate of Huntsman Cancer Institute, University of Utah and accredited by the American College of Surgeons Commission on Cancer, convenience is paramount. Even in the midst of a global pandemic the cancer center has made it a priority to improve their patients' health, comfort, and well-being by utilizing new & effective technology.
Carson Tahoe Radiation Oncology group, who have been serving the Carson City area for over 30 years, recently upgraded all of its radiation-delivery technology to the latest and greatest radiation therapy system available for treating cancer. This type of therapy is considered a 'local treatment' and works by damaging the DNA in the cancer cell, therefor disabling the cancer cells from reproducing and growing. The hope is that the cancer cells die, the tumor shrinks, and patients get back to doing the things they love most.
"Utilizing this state-of-the art cancer technology at Carson Tahoe is exciting!" said Jared Carter, Carson Tahoe Cancer Center Director. "It allows us to provide our smaller & more rural region the quality of care you may get in a large city."
The new Siemens Confidence RT PRO dual-energy large bore CT scanner (yes, we know that's a mouthful), combined with the latest version of Varian's Eclipse Treatment Planning System and TrueBeam linear accelerator, will allow radiologists to treat the majority of cancer sites where radiation therapy is specifically appropriate. This new tech is unique because it provides extremely accurate imaging in order to better plan and pinpoint precise radiation. The TrueBeam linear accelerator runs quietly, offers built-in music capabilities, and allows patients to be in constant two-way communication with their physician during the process.
"Being diagnosed with cancer is difficult no doubt," said Joe Herrick, M.S., DABR Director of Medical Physics at Carson Tahoe Radiation Oncology Associates. "We're happy to now offer this advanced technology for an overall better care experience, with the best outcomes."
This new technology gives local physicians an expanded ability to treat a variety of complex cancer cases.
"For our cancer patients, this new technology delivers accuracy, speed, and comfort during their radiation therapy treatments," Herrick says. "The new accelerator can target the center of the radiation beam to less than 1 mm avoiding healthy tissue and is capable of delivering a dose more quickly so the patients will spend less time on the treatment table."
With the TrueBeam linear accelerator, cancer patients are able to heal with fewer sessions of conventional radiation therapy (dependent on type of tumor), lowering their risk of side effects.
"When it comes to diagnosis & treatment, we always have our patient's health and comfort in mind," said Jared. "Even though these days the healthcare conversation has become increasingly dominated by the Coronavirus, there are many patients receiving treatment for other ailments. We're grateful to be able to provide this elite technology & hope for them."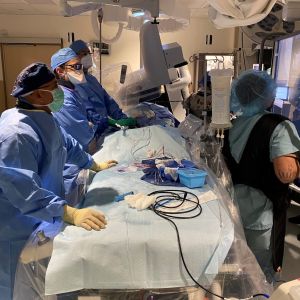 Patient successfully implanted with the latest generation left atrial appendage closure device in the state
Niuton Koide, MD, FACC, board certified electrophysiologist, Jeffrey Levisman, MD, FACC, FSCAI, board certified interventional cardiologist along with Alfred Danielian, MD, FACC, FASE, board certified in cardiovascular disease performed MountainView Hospital and the state's first implant of the latest generation left atrial appendage closure (LAAC) device on a patient with atrial fibrillation (AFib).
The hospital is one of only a handful in the country to offer the newest device as an alternative to the lifelong use of warfarin, or blood thinner for people with AFib not caused by a heart valve problem, also known as non-valvular AFib.
Those living with Afib, typically have an increased risk of stroke. An estimated six million Americans are affected by AFib – an irregular heartbeat that feels like a quivering heart. People with AFib have a five times greater risk of stroke than those with normal heart rhythms. This new device closes off an area of the heart called the left atrial appendage (LAA) to keep harmful blood clots that can form in the LAA from entering the blood stream and potentially causing a stroke. By closing off the LAA, the risk of stroke may be reduced and, over time, patients may be able to stop taking warfarin.
"The team at Las Vegas Heart Associates is proud to have performed the first implant of this device in the state as it offers another patient potentially life-changing stroke risk treatment," said Dr. Levisman, Chief of Cardiology and the Medical Director of Transcatheter Valve Replacement (TAVR) Program at MountainView Hospital.
"The device is a novel alternative for patients with non-valvular AFib at risk for a stroke, especially those with a compelling reason not to be on blood thinners," said Dr. Danielian, Medical Director of Echocardiography and Director of Sports Cardiology at Las Vegas Heart Associates.
This particular device has been implanted in more than 100,000 patients worldwide and is done in a one-time, minimally invasive procedure. It is a permanent device that cannot be seen outside the body. The procedure is done under general anesthesia and takes about an hour to complete. Patients commonly stay in the hospital overnight and leave the next day.
"People with atrial fibrillation are at significant risk of stroke," said Dr. Koide, Medical Director of Electrophysiology at MountainView Hospital. "With state-of-the-art medical advancements and treatments that are offered at MountainView Hospital, this new generation device can help prevent stroke. We are so proud to be the first in the state to offer this option for the community."
Atrial Fibrillation (AFib) is a heart condition where the upper chambers of the heart (atrium) beat too fast and with irregular rhythm (fibrillation). AFib is the most common cardiac arrhythmia, currently affecting more than six million Americans. Twenty percent of all strokes occur in patients with AFib, and AFib related strokes are more frequently fatal and disabling. The most common treatment to reduce stroke risk in patients with AFib is blood-thinning warfarin medication. Despite its proven efficacy, long-term warfarin medication is not well-tolerated by some patients and carries a significant risk for bleeding complications. Nearly half of AF patients eligible for warfarin are currently untreated due to tolerance and adherence issues.
Centennial Hills Hospital OpensNew 36-Bed Nursing Unit
Centennial Hills Hospital increased its licensed bed capacity to 336 beds following the approval of a 36-bed medical surgical nursing unit by the State of Nevada on Wednesday, December 16. Patients were being admitted to the new unit shortly after 12:30 p.m. the same day.
Currently, the nursing unit will be used for patients who need medical/surgical and intermediate-level medical care, with future plans to be used as a dedicated orthopedic nursing unit with its own therapy gym.
"This has been a tightly coordinated effort with the State of Nevada, our general contractor, SR Construction, and our own team," said Sajit Pullarkat, CEO/Managing Director of Centennial Hills Hospital. "Officials with the State played an integral role to help expedite this from a process review standpoint while ensuring all safety regulations were met and no deficiencies noted. Our contractor, SR Construction, has been with us every step of the way to accelerate the anticipated opening date from late first quarter 2021 to mid-December.
"This is truly an enormous group effort to benefit our community by adding capacity to care for patients during a very busy time," said Pullarkat. "The project was obviously planned far in advance of the COVID pandemic, but we are very appreciative of the efforts of all the groups involved to help expedite this much-needed capacity to better serve the growing needs of our community based on the latest increase in hospital utilization."
The opening of the new unit comes approximately five weeks after the opening of a 36-suite mother-baby (post-partum) unit located on the second floor of the new tower. The addition of the new tower, valued at $95 million, also includes 2021 plans for an expanded inpatient pharmacy, laboratory, surgical services and post-anesthesia care unit to accommodate the growing needs of Northwest Las Vegas, North Las Vegas and outlying communities. Additionally, the fourth and fifth floors of the new tower are shelled space that can be built out for future expansion with an anticipated capacity of more than 400 beds.
Tahoe Forest Health System Welcomes New Physician Sarah L. Fletcher, MD, Obstetrics and Gynecology
Tahoe Forest Health System is pleased to announce that Sarah L. Fletcher, MD, has joined their team at the Tahoe Forest Women's Center.
As an obstetrician/gynecologist (OB/GYN), Dr. Fletcher specializes in women's health, particularly in pregnancy, childbirth and disorders of the reproductive system.
Dr. Fletcher attended medical school at the University of New Mexico, School of Medicine, and completed her obstetrics and gynecology residency at the University of California-Davis Medical Center. She is certified by the American Board of Obstetrics & Gynecology.
MountainView Hospital Names Julie Taylor as New CEO
MountainView Hospital announces that Julie Taylor, RN, MBA, MSN, FACHE, will lead the hospital as its new Chief Executive Officer.
Taylor is currently CEO at HCA's Alaska Regional Hospital, a position she has held since December 2013. A 35-year health care veteran and nursing leader with more than 20 years in executive leadership roles, Taylor brings a wealth of knowledge and a variety of experience to MountainView Hospital.
Under Taylor's leadership, Alaska Regional Hospital enjoyed impressive growth and strengthened its foothold as a highly regarded health care provider across the entire state of Alaska. From Joint Commission designations as Centers of Excellence for Joint, Spine and Stroke, national Certifications in Chest Pain, Atrial Fibrillation and Congestive Heart Failure, 5-Star CMS ratings and Surgical Review Corporations deemed Robotics Center of Excellence program, Alaska Regional Hospital raised its profile and expanded its service line offerings, inspiring confidence in local medical expertise and reducing the need for the community to leave the state for care.
Taylor's relentless focus on culture and the importance of ensuring a supportive leadership structure contributed to the gains made, including the improvement of employee and physician engagement, as well as patient experience over the course of her tenure.
Before arriving at Alaska Regional, Taylor was the Chief Executive Officer of HCA's West Valley Medical Center in Idaho. Prior to that, Taylor was the Chief Operating Officer at HCA's The Medical Center of Aurora in Denver, Colorado.
Taylor holds Bachelor's and Master's Degrees in Nursing, and a Master's Degree in Business Administration. She is a fellow in the American College of Healthcare Executives and has served as Alaska's state regent since 2016.